C. Bechstein
Since 1853, the Bechstein sound has enchanted players and listeners. Great musicians - from Liszt to Lutoslawski, from Brahms to Penderecki, from Leonard Bernstein to Cecil Taylor - have always relied on a Bechstein as a medium for their musical message. The great art: giving musicians a reliable and valuable 'tool' for their music, their interpretation and their sound performance, that was and is the principle of Bechstein. To produce grand pianos and pianos of the highest category, to which even the greatest artists feel at home - that is and remains Bechstein's motivation, a tireless pursuit of perfection. It's a great honour for Bechstein to be performed by musicians, a high and elevated goal to bring happiness to the people.
INSTRUMENT
In addition to the manual work, part of the production is using the most automatic modern techniques. This saved time is used for the individual finishing of each individual instrument. Bechstein is a true craftsman's company when it comes to mechanics and tone formation, work that can only be carried out by specialists. Each instrument has the same intensive treatment and this is clearly the true Bechstein Sound. Bechstein uses many natural materials. Due to the high quality requirements, all material is tested and selected. Every step is equaly important, whether it concerns the elasticity of the felt, the quality of the leather or the grain of the veneer. Ecological standards also play a role. Especially for the hammerheads, which are very important for tone formation, Bechstein is the only company who produces their own hammerheads.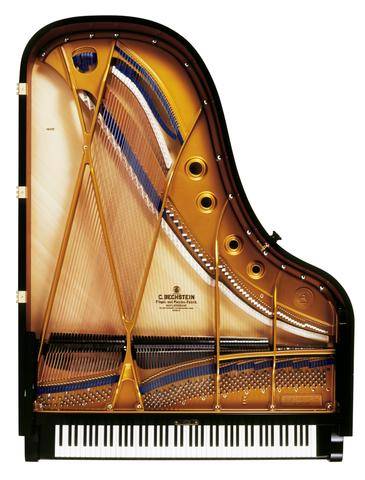 Want to buy a C. Bechstein piano or grand piano?
At bolpianos you will find the entire range of instruments that are made at C.Bechstein. All models can be found in our showrooms. Whether you are looking for the lowest priced instrument or the top quality Concert 8. Of the model Concert grand D280 and D282 are no less than 3 pieces next to each other. Bolpianos is in Europe one of the largest customers at C.Bechstein. We are an exclusive distributor in the Benelux. Come and have a look at our 2500 square meters showroom, where the instruments are all set up next to each other.
Our technicians have all received training at C.Bechstein in regulating the mechanics and intonation of the hammers. C.Bechstein is an experience to get acquainted with the largest piano manufacturer in Europe. Bechstein is the manufacturer of several brands of pianos, namely C.Bechstein in Germany, W.Hoffmann in the Czech Republic and Zimmermann in China where the Designed by C.Bechstein proudly represents this piano. You can buy your C.Bechstein piano at Bol Pianos.